Court Remains Closed to the Public
Notice Regarding Protected Personal Identifying Information
Due to the amendment of MCR 1.109 and 8.119, images of court documents filed prior to March 31, 2022 will are longer available to view online on our website via Case Access. Any document filed on or after April 1, 2022 will be available
to view online. See our Copy Request instructions here for more information on how to obtain copies of documents dated prior to April 1, 2022.
*For all Filers, Including Attorneys/GALs/Court-Appointed Counsel: Do not include protected personal identifying information on documents that you file with the court unless necessary. Protected PII is: date of birth, financial account numbers, driver's license/state id/passport numbers, and social security numbers. SCAO forms have been updated to remove fields for PII or to require that the information is included on a second separate form (mc97 or mc97a). For more information, please go to SCAO's website here: Protecting Personal Identifying Information (michigan.gov)
Processing Backlog of Approximately Four Weeks
Please be aware that the Wayne County Probate Court's processing backlog is now approximately four weeks. To see if your item has been filed, check the Court's website under Case Access; follow the instructions.
This processing delay also applies to receiving your Notice of Hearing and requests for letters of authority for all types of cases. Hearing dates may not be scheduled and updated Letters may not be received for roughly one to two weeks after payment has been made.
Please continue to monitor our website for updates and other important information. Please do not send emails asking for updates on your filing/hearing/requests until after three weeks have passed, as responding to the frequent inquiries slows our progress. Thank you for your patience as we strive to provide quality service in these challenging times.

The Wayne County Probate Court will NOT be physically accessible to the public and no in-person filings will be permitted until further notice. All hearings are to be conducted remotely via ZOOM until further notice. Please click here for information about attending hearings remotely. These extraordinary measures are in place to protect the public and our staff.
WCPC Information
Judges of Probate
Hon. Freddie G. Burton, Jr., Chief Judge
Hon. David Braxton, Chief Judge Pro Tempore
Hon. Judy A. Hartsfield
Hon. Frank S. Szymanski
Hon. Terrance A. Keith
Vision & Mission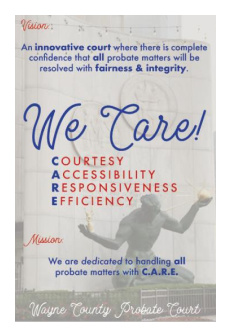 Vision:
An innovative court where there is complete confidence that all probate matters will be resolved with fairness & integrity.
We Care!
Courtesy
Accessibility
ResponsivEness
Efficiency
Mission
We are dedicated to handling all probate matters with C.A.R.E