Court Remains Closed to the Public
Processing Backlog of Approximately Three Weeks due to COVID Spike and Holidays
Please be aware that the Wayne County Probate Court's processing backlog has increased to approximately three weeks due to the spike in COVID cases and the Holiday Break. To see if your item has been filed, check the Court's website under (opens in new window)Case Access; follow the instructions.
This processing delay also applies to receiving your Notice of Hearing and requests for letters of authority for all types of cases. Hearing dates may not be scheduled and updated Letters may not be received for roughly three weeks after payment has been made.
Please continue to monitor our website for updates and other important information. Please do not send emails asking for updates on your filing/hearing/requests until after three weeks have passed, as responding to the frequent inquiries slows our progress. Thank you for your patience as we strive to provide quality service in these challenging times.

The Wayne County Probate Court will NOT be physically accessible to the public and no in-person filings will be permitted until further notice. All hearings are to be conducted remotely via ZOOM until further notice. Please click here for information about attending hearings remotely. These extraordinary measures are in place to protect the public and our staff.
WCPC Information
Judges of Probate
Hon. Freddie G. Burton, Jr., Chief Judge
Hon. David Braxton, Chief Judge Pro Tempore
Hon. Judy A. Hartsfield
Hon. Frank S. Szymanski
Hon. Terrance A. Keith
Vision & Mission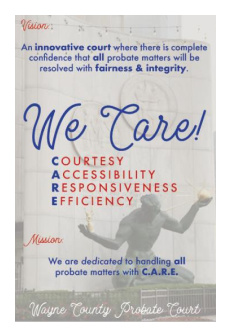 Vision:
An innovative court where there is complete confidence that all probate matters will be resolved with fairness & integrity.
We Care!
Courtesy
Accessibility
ResponsivEness
Efficiency
Mission
We are dedicated to handling all probate matters with C.A.R.E