NOTICE TO THE PUBLIC
Please be advised that the Wayne County Probate Court will close for Good Friday at 12:00 pm on Friday, April 19, 2019. The court will reopen at 8:00 am on Monday, April 22, 2019.

Also be advised that the court will be closed on Tuesday, April 23, 2019 for Records Day. Only emergency filings will be accepted (mental health pick up/transport orders, petitions for immediate funeral/burial arrangements, guardianships involving life threatening medical emergencies, conservatorships with immediate pending evictions/foreclosures/shut off notices, estates where immediate access to residence is necessary, requests for ex-parte temporary restraining orders, and emergency petitions filed by Adult Protective Services and Child Protective Services).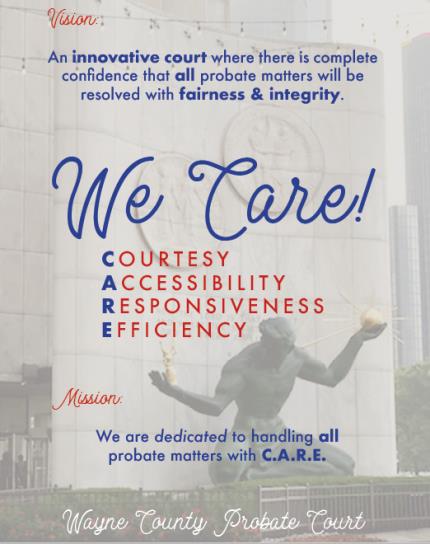 Judges of Probate
Hon. Freddie G. Burton, Jr., Chief Judge
Hon. David Braxton, Chief Judge Pro Tempore
Hon. Judy A. Hartsfield
Hon. Frank S. Szymanski
Hon. Terrance A. Keith
Hon. Lisa Marie Neilson
Hon. Lawrence J. Paolucci
Hon. David A. Perkins