Wayne County Probate Court Employees: Access SurveyMonkey for employee screening.

07/01/2021
Court Remains Closed to the Public
The Wayne County Probate Court will NOT be physically accessible to the public and no in-person filings will be permitted until further notice. All hearings are to be conducted remotely via ZOOM until further notice. Please click here for information about attending hearings remotely. These extraordinary measures are in place to protect the public and our staff.

Information on Filings

For Faxed, emailed items:
• A single .pdf attachment must be used for each filing, but multiple .pdf attachments can be submitted in a single email. Example: Two .pdfs in an email – one for guardianship and one for conservatorship regarding the same person.
• A scanned copy of an original will must be submitted as part of the .pdf file. The original will must be sent to the court (via mail, certified mail, or delivery service) and received within 14 days of the email filing; failure to do so within this time period may result in the dismissal of the case.

Click here for contact information regarding questions and resolving issues related to this process.

Filings may be submitted by email, fax, or regular U.S. mail. Please review the following step-by-step instructions to help us process your filings as efficiently as possible. Please note that we are not an e-filing court and this is not an automated process. Individual people are receiving your emails and faxes and processing them either on-site or remotely with new procedures created in response to the public health crisis. You will not receive confirmation that we are in receipt of your filings.
New Forms – Personal Identifying Information (PII)
In order to prevent identity theft, the Michigan Supreme Court requires that as of January 1, 2022 new forms must be used which do not contain PII. The Court cannot accept the old forms after December 31, 2021.

PII must be listed on a new form, either MC 97 (Protected Personal Identifying Information) or MC 97a (Addendum to Protected Personal Identifying Information).

Processing Delays

Non-emergency filings are currently being processed within a week after receipt by the court (whether by email, fax, or regular mail).

How to Submit your Non-Emergency Filing

How to submit your Non-Emergency Filing.

How to Submit your Emergency Filing

How to submit your Emergency Filing.

Filing Fees

Filings that require a fee (initial petitions such as GA or CA cases, Petition and Order for Assignment, Applications/Petitions without an original Will, subsequent petitions):

1. FEES: Once you see your document has been accepted and a new case has been started or your document has been accepted, you MUST PAY THE FILING FEE associated with that filing. See the Fee Schedule.
2. Follow the ePayment instructions here to pay your fee online with a credit/debit card or PayPal. Wayne County Probate Court utilizes a third party vendor (CourtView Justice Solutions Inc.) to process ePayments. This transaction will appear on your statement as PAYPAL*COURTVIEW.
3. Once your filing has been accepted and processed, fees must be paid and there are no refunds. The fee is assessed at the time of filing not based on the results of your petition/hearing.

Hearing Information

If your filing also requires a hearing (almost all petitions except for Petitions/Order for Assignment (small estates)):

1. After the fee is paid, you will receive BY EMAIL your notice of hearing packet, which includes the date and time of the hearing, the instructions to participate in the hearing via zoom, and a copy of your petition.
2. It is the petitioner's responsibility to serve notice of the hearing on the interested parties and submit a proof of service to the court PRIOR TO THE HEARING. If publication is required, the Detroit Legal News is open and continuing to publish per their normal schedule. Contact them at cbasala@legalnews.com or 313 409-6398 to arrange for publication.
3. If your filing fee has not been paid or if you have not completed service (filed the proof of service with the court), YOUR HEARING WILL NOT GO FORWARD and your petition may be dismissed.
4. Click here for ZOOM hearing information.
5. For questions related to the hearing, you may contact the courtroom (for the judge assigned to your case) directly using the directory Where/How Do I File.
6. Following the hearing held via Zoom, you will receive BY EMAIL your certified Letters of Authority once you have been appointed and qualified with filing of an Acceptance of Appointment and bond, if applicable Letters ($12 each) must be paid for via ePayment in order to receive them.
7. Please visit Case Access to view hearing information and contact the courtroom for Zoom instructions if needed.
8. All hearings starting on March 16, 2020 were held via Zoom. All future hearing dates are scheduled for Zoom until further notice.

How to Request Updated Letters of Authority

Requesting Updated Letters of Authority.

ImageAccess

Court rule amendments to MCR 1.109(D) & 8.119(H) effective July 1, 2021 regarding protected personal information (PII) has made it impossible for the Court to allow access to documents containing PII via our website. To obtain copies of court documents, see the Copy Request page of this website.

Electronic Certified Copies

The court has adopted a new electronic seal to certify copies, including Letters of Authority, that will be sent to you via email, if one has been provided to the court, instead of mailing out hard copies with the raised seal.

Publication and/or Notice to Unknown Creditors

For petitions where publication is required and\or notice to unknown creditors, please be aware that the Detroit Legal News is open and continuing to publish per their normal schedule. Contact them at cbasala@legalnews.com or 313 409-6398 to arrange for publication.

Self-Help Resources

All probate court forms are available to download here. Check our Information tab for general information about specific probate case types (for example, opening a decedent's estate or filing for guardianship).

The Wayne County Probate Bar Association provides a lawyer referral service and your first consultation is free: 1-800-357-7090.

Michigan Legal Help is a website with several articles covering probate topics and you can also search for legal aid organizations that serve your geographic area or topic.

Use of technology to conduct hearings of all types remotely during this health crisis is based on Administrative Order 2020-6, extended by AO 2020-12, issued by the Michigan Supreme Court. SCAO has many helpful resources for participating in remote hearings and other materials related to court capacities around the state.
The COVID-19 vaccine is FREE and available at many walk-in sites around the City of Detroit. Find locations and more information here. For non-city residents, please see information here or call 1-866-610-3885 on vaccine availability through Wayne County.

Questions\Further Information

Questions may be directed to info@wcpc.us. We appreciate your patience and understanding as we face this public health challenge together.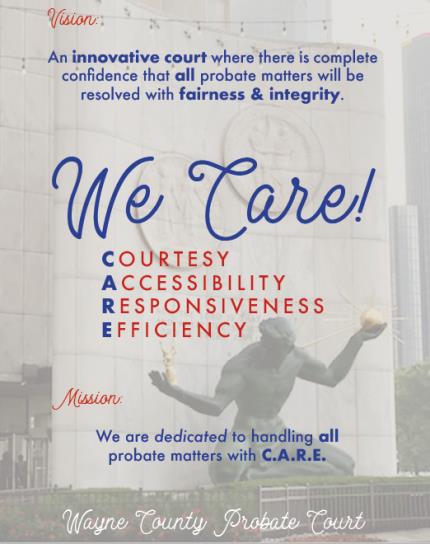 Judges of Probate
Hon. Freddie G. Burton, Jr., Chief Judge
Hon. David Braxton, Chief Judge Pro Tempore
Hon. Judy A. Hartsfield
Hon. Frank S. Szymanski
Hon. Terrance A. Keith
Hon. Lisa Marie Neilson
Hon. Lawrence J. Paolucci
Hon. David A. Perkins