Court Remains Closed to the Public
The Court's fax system went down at 9 am Oct, 22nd and is currently still down. Faxes sent during the outage might NOT be received when faxes are available again. If you have an emergency, time-sensitive MI, or DD filing, please reach out to the appropriate department through email. We apologize for the inconvenience and will post an update once the issue is resolved.

The Wayne County Probate Court will NOT be physically accessible to the public and no in-person filings will be permitted until further notice. All hearings are to be conducted remotely via ZOOM until further notice. Please click here for information about attending hearings remotely. These extraordinary measures are in place to protect the public and our staff.
WCPC Information
Judges of Probate
Hon. Freddie G. Burton, Jr., Chief Judge
Hon. David Braxton, Chief Judge Pro Tempore
Hon. Judy A. Hartsfield
Hon. Frank S. Szymanski
Hon. Terrance A. Keith
Vision & Mission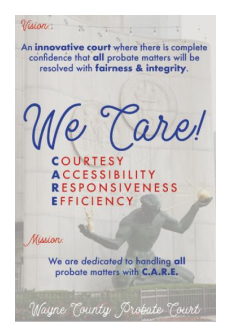 Vision:
An innovative court where there is complete confidence that all probate matters will be resolved with fairness & integrity.
We Care!
Courtesy
Accessibility
ResponsivEness
Efficiency
Mission
We are dedicated to handling all probate matters with C.A.R.E